Hello to all you brave, courageous choir leaders, worship leaders out there. Thinking of you as we work with the challenges and journal the successes of connecting with our choirs and congregations online.
A few of you have asked if I could talk about how I prepare for and lead a rehearsal for a virtual choir or a group of singers online.
We have different names for these online rehearsals, don't we?  Virtual choir rehearsals, remote choir rehearsals, online rehearsals, 'get me out of here' rehearsals but whatever you call them, they have become a necessity if you wish to keep connecting with your group or choir.
Some of you will know that I work with Carey my husband for all these rehearsals and it's been so encouraging to hear your feedback.
"Watching everyone's faces, we all clearly had such a great time. I was thrilled to see choir members engage so brilliantly despite the limitations of Zoom and know that that is down to your fantastic song, Carey's incredible music direction, your infectious enthusiasm and affirmation which brings the best out in all of us.  Please come again soon!"    

Heather Chivers | Riverside GGCC Choir Music Director.  [After our online rehearsal with Riverside GGCC on Zoom]
Two singers after our online rehearsal with Kim Samuel's choir 'Renewal' in Bristol said:
"Really enjoyed singing together yesterday. Didn't realise how much I needed that uplift"
"Just thanks for all the hard work. The song has been going around in my head today.
It is a really poignant song for us all to our God who knows all things. Awesome!!"
After our virtual choir rehearsal, Anya a choir director from Torquay said:
"I don't know how you do it but you make it look so easy" 
I know that some of you don't think it is 'easy' at all. You might look forward to seeing your choir online but are daunted by the tech, or maybe stuck for songs to sing so I thought I'd share some things I've found helpful.
Before I kick off, let me say that I've used the Zoom online platform and, so at risk of product placement will talk about my experience using Zoom, but there are other platforms like Skype out there. Let me know how you get on with these.
So, here goes – we are going to dive into some technical talk but hopefully it will all make sense in context.
The techie stuff!
I don't always enjoy the tech stuff. Mainly when it doesn't work, isn't straightforward or simply looks so complicated. "I'm a singer and choir leader so why do I need to do this?  Why isn't it working?"
Sound familiar?!
Well, I know that it can sometimes feel like 'well, I didn't sign up for this as a choir leader, I just want to sing' but let the motivation to connect with your choir and the affirmation that you are the right person for the job spur you on.
[I know this might even sound trite but genuinely I also find praying helps me regain perspective too].
Facing all this can be really daunting but once you have your techie stuff set up it really will help you to present your rehearsal well.
How do I lead an Virtual Choir Rehearsal?
To lead Virtual (Zoom)  Choir rehearsal you should, Firstly have a method, Start with what you have, make room, soundcheck, turn on the lights and practice.
I unpack these further below
1. Have a method
Make a checklist and go down this list for your set-up routine.  There may be the odd time it doesn't work but that won't be because you've forgotten something simple or practical.
Follow your checklist until it becomes a habit.
2. Start with what you have
I will talk about the set-up I use but according to your budget, room size, computer or other devices there are always alternatives.
Start with what you have – and be prepared to learn the lessons along the way.
Basic set-up
All you need:
Computer
Your choice of online connection. We use Zoom.
Headphones – this eliminates annoying feedback [that whining, high pitched tone you sometimes get]
Piano keyboard with speakers or an acoustic piano that is in tune!
Song
Smile
Don't think of this as 'second best'.  It will work and will communicate your song to the choir…
…but if your budget and room size with your desire to produce good sound quality for your choir/group are aligned, you may consider investing in a set up similar to ours.
Geraldine Latty Music set-up
Firstly, we use the Scarlett 6i6 interface because of using two headphones [but the 2i2 or 4i4 will be just as good if you are using a single pair of headphones]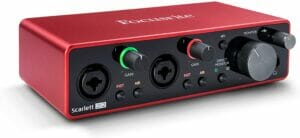 Not only is it popular but we've found it to be an excellent bit of kit which enables you to connect your microphone, your keyboard  and your computer through one device [interface] and after the initial set-up, takes the guesswork out your delivery, so questions like,
"is my voice coming across clearly?"
"is the keyboard loud enough?"
"What's the balance like?"
are hopefully answered with a simple "yes" "yes" and "great!"
2. Secondly, we really like the quality and tone of the AKG C214.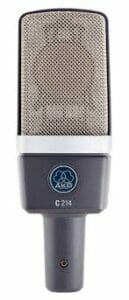 Our friend John Merriman from Crown Lane Studio describes them as "drawing the breath of your vocal tone straight into the mic" It produces such a clear sound and I find I don't have to work too hard to project or produce clarity and volume.
3. Thirdly, Carey's keyboard workhorse for these rehearsals is the Krome EX workstation.

Carey says, "I really like its ability to quickly create full sounding tracks in real time."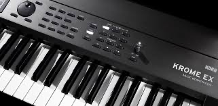 4.  Fourthly, for our laptop we use the MacBook Pro which is a common and obvious choice for musicians because of Music Apps like Logic and Garageband.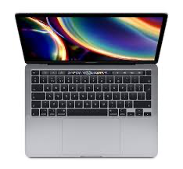 5.  And finally, consider investing in some good quality headphones.  We like the 770 Pro from Beyerdynamic [studio quality], but the AKG K52s are a budget option.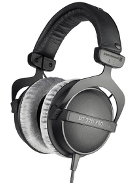 SO, here is our Geraldine Latty Music full set-up:
The interface [we use the Focusrite Scarlett 6i6]
AKG C214 mic available here from Amazon – but again do shop around. We have a mic each so Carey can lead the guys singing

Krome EX

keyboard
Beyerdynamic DT770 headphones
MacBook Pro and
I also printed out some additional lyrics so I have a hard copy to refer to, but you can also have these on screen as a lyric video. [More on the Lyric Video later]
If you are thinking of investing in some of all of the above,  then 'Gear for Music' offer a reasonably priced bundle of the interface, mic and headphones here but do shop around too at Gak, Amazon and others to check if there are better deals.
3. Make room
You don't need a particularly large room or space for this set-up but do make sure that everything is to hand. For example, if you are standing or sitting make sure the keyboard sits well under your fingers.
Make sure that the mic is in front of your mouth but doesn't block your view of the computer screen.
You may be balancing computers on anything from box files to upside down laundry baskets!
Use what you have to hand. Make sure it's stable and secure with no trailing wires.
So, plug your keyboard into this input: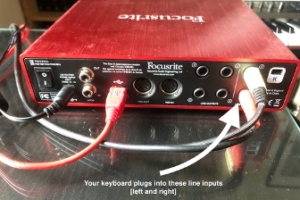 Connect your microphone to this input: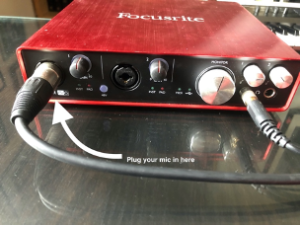 Don't forget that to avoid feedback or echoing voices you'll need to use headphones.
Connect your headphones here: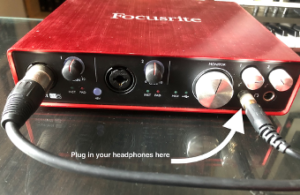 The Scarlett Focusrite Control App
We manage the sound on screen through the Focusrite Control app: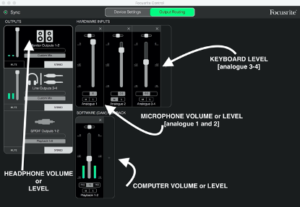 This is our secret weapon because not only does it control the headphone and microphone volumes but it also balances the keyboard and the microphone sound.
So to 'balance' levels, I can adjust the volume or levels if the keyboard is too loud and I can't hear Carey singing for example, or if my voice is too loud and I can't hear Carey playing the keyboard I may sing out of tune or out of time. To fix it I can turn the keyboard up to 'balance' with my voice.
Sound check
Have you checked it all works?
Now, this is really important. Don't skip this part!
It's really easy isn't it to think we can just rock up to a rehearsal and hope it will be OK, but as Carey and I found out in the very first online rehearsal we did, missing this important check may trip you up later!
To be honest it was my fault!
Carey had run a soundcheck for his keyboard and his mic and everything was running perfectly but obviously he couldn't soundcheck two mics at once, so when I started to sing with him, my voice was way too loud in my headphones and I couldn't hear what Carey was playing and struggled to concentrate on the screen because I was trying to get Carey's attention so he could turn my volume down.
Oh the joys of trying to make that look really natural while still singing and smiling and not going cross-eyed!
I think we just about got away with it – but we always sound check now!
4. Turn on the lights!
We thought we'd invest in some lighting!
No, not the big glass domes and filters of Hollywood movie fame but these from Amazon.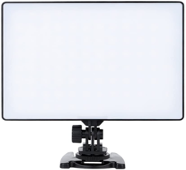 I never knew the value of lighting until working with filmmaker Varujan Smallwood of Telling Video. I thought any old lightbulb would do, but good lighting helps to reduce shadow and brings definition to your picture.  Var puts it simply, "more light, more clarity".
There is no glass involved as they are LED and have three different grades of intensity. They also have a tilt mechanism so that you can adjust the direction of the light too.
Other accessories you'll need include adjustable stands for how high or low you want to go and battery packs or adaptors for the lights.
Carey reminds me that at this level, "it's generally about having the lights in front of you and pointing at you."This investment really helped to provide decent lighting for the screen. But please hear me, don't worry if budget or time doesn't stretch to this.
Make sure your room is well lit with a good ceiling light and with extra lamps if available [although do try to avoid the 'torch shining under your chin horror movie effect!].
Start with what you have.
How do I set up Zoom for a Virtual Choir Rehearsal?

I know there are lots of other video conferencing apps out there and I know that Zoom isn't perfect, but I am more familiar with this platform, so I'll walk you through my experience of Zoom.
5. A practice run
Everything is set up and connected to your computer. So now we're going to have a practice run.
So, let's start a new meeting.
There are four buttons on the 'home' page:
New Meeting.
Join.
Schedule.
Share Screen.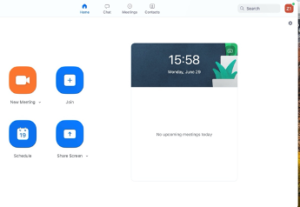 Click 'New Meeting'.
You may see a screen which asks you to 'join with computer audio', whether or not you are using the Geraldine Latty Music set up or the basic set up – select the 'Join with computer Audio' button.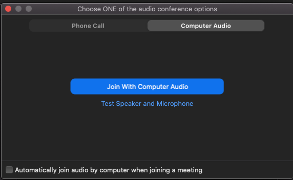 So, now we can practice how to set up Zoom to work in the rehearsal, let me show you what's on my screen: You'll see that the start video has a red diagonal line through it which means the video is not running.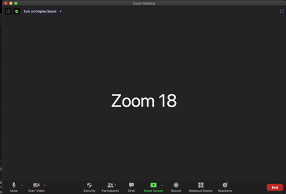 I'm going to leave it like that for now and come back to that later.
Adjusting Zoom settings
I've found three ways to get to your settings section. They may not all be text book but they do get me there in the end.
Number One
On MacBook press command [CMD] key followed by a comma [CMD ,] this will open your Settings page.
Number Two
Open the app and scroll up to the green shield that has a tick box.
Selecting this takes me to the settings page.  Not an orthodox way of doing it but it works!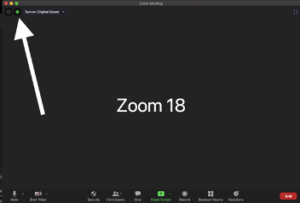 Number Three
This is the Zoom recommend, open the Zoom app to the four buttons on the 'home' page. Scroll up to the very top right hand corner and you'll see a small square for your profile picture.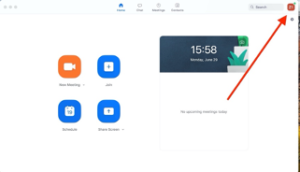 Click on that and then you'll see the settings box.
Settings – General page
This is what I have selected:
'ask me to confirm when I leave a meeting'
'add Zoom to macOS menu bar'.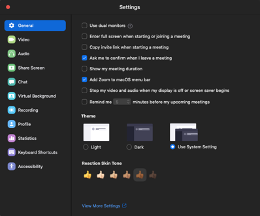 Settings – Video page
I've selected
FaceTime camera [this camera comes with the Mac]
16:9 (widescreen)
Mirror my video
Turn off my video when joining a meeting
Always share video preview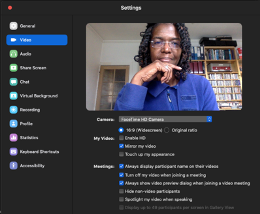 You'll see I've also selected:
Always display participant name on their videos.
It's more welcoming using names isn't it?
I think this little tool is a great help when working with a large group of singers or when new people join your choir and you want to remember their name. It comes into its own especially when you want to affirm or encourage someone and is friendlier than "well done that singer in the blue shirt, 2nd row down on the right… No, your other right!"
Finally, and if you think you need it, there is a 'touch up my appearance' box on this settings page.  Have a play around and see if you like the results.
Settings – Audio
 The Geraldine Latty Music set up. [Basic set-up details below]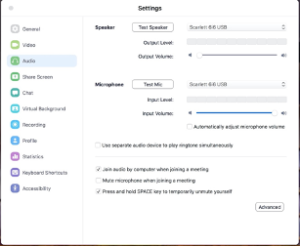 You'll notice that in the 'Speaker' section the interface [in our case Scarlett 6i6] is selected.
In the 'Microphone' section again the Scarlett interface is selected.
Note too, that because we are connected to the Focusrite Scarlett, we can't adjust levels here on the Zoom screen – we will need to adjust them on the Focusrite Control app that we talked about earlier.
Basic set-up
If you are using a basic set-up that we chatted about earlier, look at the 'Speaker' section and you will see 'Built-in Output (Internal Speakers)' is selected.
The output volume is set about half-way: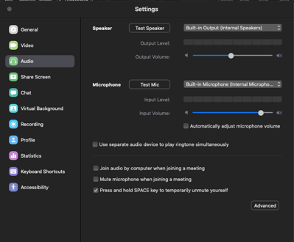 As soon as you plug your headphones in – this should change to 'Built-in Output [Headphones]':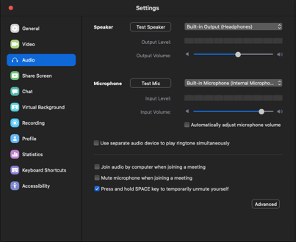 For the 'Microphone' section you will see 'Built-in Microphone (Internal Microphone)' is selected.
You can adjust the microphone level to where you can comfortably hear your voice in your headphones.
OK – now, this next bit is important whether you are going for the Geraldine Latty Music set-up or the basic set up. You'll see that the 'Automatically adjust microphone level' box is clear because I don't want the computer to decide how loud or how quietly I'm singing, I want to make any adjustments myself. That's why it's left blank so the computer cannot automatically change my microphone volume!
Now, finally in the Audio settings pages there are two helps I can get excited about.
You know sometimes when you are talking with someone online and when they start singing or clapping their voice cuts out. Well there is a help for this!
Scroll down to the advanced button for three changes we need to make: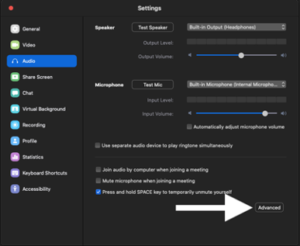 Your next page should look like this [with either a white or black background] depending on your computer.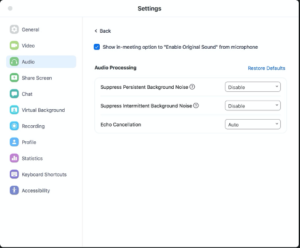 Make sure the 'Show in meeting option to "Enable Original Sound" from microphone box is selected.
Under the 'Suppress Persistent Background Noise' make sure that "Disable" is selected. [You can choose from 'Auto' 'Moderate' and 'Aggressive']
Under the 'Suppress Intermittent Background Noise' again make sure that "Disable" is selected. [You can choose from 'Auto' 'Moderate' and 'Aggressive']
Echo cancellation is set to 'Auto'.
OK – we are done with 'Settings'. There are other options but for our purposes, all the changes we have made will be the best for our rehearsals. Happy days!  We are now ready for lights, camera and action so let's go back to the home page on Zoom – remember those 4 buttons?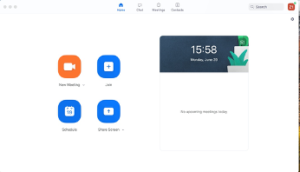 Let's schedule a meeting.
Select schedule and fill in the details.
Under topic you can see I've called it 'Our next choir rehearsal'
Add the date and the time of the rehearsal
I've selected 'Generate Automatically' for meeting ID and you'll see
I've also selected 'Require meeting password'. Finally,
Choose which calendar you want to use. [The white arrow shows I've selected 'Outlook'].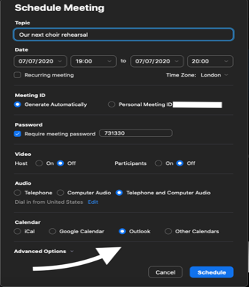 Now before you press 'Select' check out the 'Advanced Options' button here.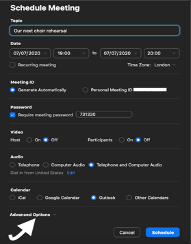 What you select here is a matter of preference.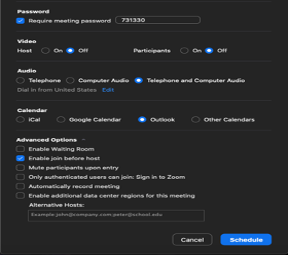 You'll see I've only selected 'Enable join before host'.
I know some of you prefer to select 'Mute participants on entry' or to 'Enable waiting room' so you can check the room, your computer, sound, lights if using, and that all the other tech is running OK.
I prefer to do all of that on a 'practice run' in a 'New' meeting [as we saw earlier].
I like the idea of the choir arriving and buzzing with chat even if they arrive before me.
Great – now press 'Schedule' and because I chose the 'Outlook' calendar on the previous page, Outlook will automatically pop up with a calendar meeting with a link to join the meeting.
Then I simply add in the choir members names [or group] as I would in a normal email and press 'Send' or 'Invite'.
Job done!  The choir has been contacted and informed of date and time with the link.
One more Zoom page to check, before we get to the actual rehearsal and it's all about the controls.
In meeting controls
You might be already familiar with these – but just in case this is new to you, here they are for you:

From left to right:
Microphone settings [mute, unmute and select Input – mine is currently unmuted].
Video Control [start and stop video and select input – mine is currently muted].
Security [options to enable share screen, lock meeting and enable waiting room – I only allow the co-host to share the screen].
Participants [see who is present. When you select this, in the pop out box at the side you'll see controls for 'mute all' and an option to invite someone to co-host with you.  More on co-hosting benefits later].
Chat [chat and emoji options helpful for ongoing encouragement or questions].
Share Screen [select this for sharing lyric backing track videos or use it to share a lyric pdf].
Record [record your rehearsal to a hard drive, your computer or to Zoom's cloud. The option to save the recording pops up when you end the session but before you quit Zoom.  So make sure you save the recording before quitting].
Breakout Rooms [good for sectionals – you could have your co-host lead a rehearsal for the altos for example].
End [End or 'Leave meeting' options. Ending completely closes the meeting. Leaving means you exit, but everyone else can stay in the meeting if they wish].
Two hidden helps in 'Participants'
Number 1: Co-hosts
You can select someone here to co-host. This means they can:
record the session
run breakout sessions
share the lyric on the screen [I don't allow any other participants to share the screen].
It means you can concentrate on singing and rehearsing your choir.
Number 2:  Mute-all button
This is an all-important button for you running an online rehearsal.
If you have ever tried an online singing rehearsal and wondered why everyone is singing at different times even though you are playing in time and 'on the beat', this is mainly because our wireless speeds are at different strengths varying from household to household.
This causes a delay or 'lag' the distance from when someone sings in their room on Zoom to when their voice actually reaches the speakers in your headphones.
Hence the 'mute-all' button. To use this isn't a comment on any particular voice, their enthusiasm or intonation. But using it will greatly help the overall rehearsal and means that we are not distracted by people singing maybe even up to a phrase late simply because of wireless strengths.
So, to avoid this lag, press the mute-all button whenever the choir is singing together.
Sadly we won't be able to hear everybody singing but read on for how I use the unmute-all function in a positive way to encourage the choir.
The benefits of the unmute-all button.
I love using the unmute-all button too!
A really important principle I have found is to hear back from the choir occasionally  through the rehearsal, for example, at the end of learning a verse or chorus together.
Feedback is helpful so I often ask questions like:
How did you find it?
Can everyone hear the piano/my voice etc?
What word or phrase struck you as you were singing?
What do you think the mood is of the song?
What is your favourite section – why?
It is an opportunity for the choir to hear each other thoughts too – there have been some profound moments at these points as people express their feelings or even give a shout out to someone else in the choir.
How do I choose my songs for a virtual choir rehearsal?
Choosing your song!
You do this all the time. And you do it so well! You choose songs based on what works well with your singers. What brings out the best tone in their voices. Which songs tell the best story of the choir, your community. Which songs capture the 'sound' of your choir really well.
Keep doing this
Singing 'by sight'
You may normally lead your choir by handing out musical scores which they read.
You will need to email scores before the rehearsal so choir members can access their copies at the rehearsal.
Singing 'by ear'
My work is normally with community choirs and I use the 'by ear' [or by rote] method as a way to teach new songs. I sing a line – the choir repeats the line back to me and that's how we build up the complete song.
So for my online rehearsals the song choice is particularly important.
I will choose songs that:
Are accessible, easy to learn..
Have emotion and story
Have memorable melodies
Are in 3-part contemporary gospel harmony and
Can be taught in one hour
So,  we have found world or gospel or inspirational songs have worked well.
Two resources
There are plenty out there, but let me mention two… 
Number one
If you are stuck for repertoire, check out the amazing resources from Christine and Victoria at Total Choir Resources.  Their ability to provide usable and user-friendly resources, build community and instil confidence [even in lockdown situations] to thousands of choirs seemingly knows no bounds!
Number two
Carey and I also have a number of songs tried and tested in online rehearsals available at LuceMusic.London.
Check out our choir packs which along with mp3s and choir scores, include lyric backing track videos which are ideal if you have no accompanist.
The huge benefit of lyric backing tracks…
Even with the online joy of seeing each other on Zoom we can't hear each other at the same time. One of the things we offer available at LuceMusic.London is a lyric backing track. We are really chuffed with this because we think it's a great resource for choirs. You may know that feeling of singing your part online, but even with a live piano it is still just your voice in the room. Well, the lyric backing video takes us a step closer to feeling we're singing together in harmony.
While the lyrics are scrolling on screen the full backing track is also playing so you can sing along to the other vocal parts and so hear where your voice fits. Happy days!
Songs that have gone down well in online rehearsals include:
Day of trouble [we've also released this as a choir video here]
Nobody knows
Hold on
How do I lead a virtual choir rehearsal?
Some rehearsal must have's
1.Smile!
It is very different teaching or leading to a flat screen isn't it? So I do have to work harder at facial expressions and particularly my smile. Light your face up with your smile. It helps quickly set your choir at ease.
2. Welcome
Find something that connects everyone into the same experience.
It might be as simple as saying hello and talking about the great British weather! Or asking a question.
How many people were able to clap the heroes last night?
How many of you have had your tea yet?
Find something that brings a connecting point.
3. Warm ups
If we are guest conducting, we sometimes ask the choir leader to prepare choir for the online session by doing some warm-ups. These are great icebreakers too, especially the physical ones because they look great on screen.
Include warm-ups with:
vocal scales on vowel shapes and consonants
physical stretches. We love doing swimming strokes in the air [front crawl, breast stroke] these are really great for stretching muscles around the back and over the shoulder.
articulation and diction exercises like 'Supercalifragilistic' from Mary Poppins, or exercise with your favourite tongue twisters
stamina / breathing [holding longer notes are great for stabilising the body]
4. Tips to encouraging your choir online.  Rehearsal EEDs [Encourage. Explain. Demonstrate]
On Zoom we may not be able to pick up on wrong notes, or someone coming in too early or too late or even being in tune or not, but there are other things that we can be on the lookout for in our coaching sessions.
Encourage ['Great smiles there…']  then explain the benefit ['this leaves space for air to resonate around mouth and over soft palette…'] and then demonstrate, show with your face how you'd like them to be [be yourself in demonstrating what you'd like them to look like].
In our song 'Day of Trouble' I focused on particular words like 'trouble' or 'day'. If you are seeing half-open mouths or squashed vowel shaped lips for 'ooo's, then look for someone who is doing it right, encourage, explain in a comment then demonstrate.
5. Listen to the choir speak too.
Don't forget that mute-all / unmute-all button too so you get to ask questions like:
What is the emotion on a particular word?
How do they think they should emphasise a particular word / phrase?
For example in 'Day of Trouble' the chorus 'Won't you come to save us' you might ask how they could sing that dramatic entry?
Ask for examples of facial expression or mouth shape.
Remember the EEDs – Encourage contributions. Explain why. Demo with your expertise.
6. Actions/movement 
This may not be the ethos of every choir but for the community choirs in which I'm involved, 'moving bodies' is a key part of our ethos [standing up, stomping, gospel two-step etc].
Even for those not readily able to stand – swaying, head nodding, hand clapping or fingers clicking can help to connect us through the screen.
As we are learning the song I sometimes encourage them to add in any actions. This not only engages with memory learning but it is also another physical expression that you can react to on Zoom.
So for example in our chorus for 'Day of Trouble'
'Lord, Lord, we need your rescue', [try stretching out arms]
'Lord, Lord, time for your rescue' [maybe point to a watch on wrist]
'Lord, Lord, show us your rescue plan' [imagining looking through imaginary binoculars]
Keep reacting to what you see on the screen with the EEDs that we mentioned earlier
Now,
What about those amazing choir videos where the choir is not muted and you can hear everyone singing at the same time? How do they make it work?
The short answer is, it is not a live event or a Zoom room, it is a recording!
Along with the choir and choir leader, there will have been a skilled video editor and audio engineer at work with a lot, maybe days of editing, rendering [and coffee no doubt] to produce the 'Zoom' effect of sound and visual.
Shameless plug here, for Emma and Varujan Smallwood [of Telling Video fame that I mentioned earlier] we do offer a Choir rehearsal with Video package available at Geraldine Latty Music .
We will not only run your rehearsal for you but will design a video presentation of your choir which you can then maybe host as a YouTube concert, raising money for your choir or for your favourite charity.
So – to wrap-up!
Two set-ups:
Basic – will work. Start with what you have
Geraldine Latty Music set-up. Check out this blog for equipment suggestions
Checks and Balances
Run a sound check
Run a lighting check
Run a screen check
Basically – is everything working?
Using Zoom or other online platform
Send an invite to choir
Arrange a co-host
The rehearsal includes:
Smile and welcome
Warm-ups
Best song
EEDs [Encourage. Explain.  Demo]
Facial expressions. Mouth shape and Movement
Masses of encouragement
And finally…
A dangerous weapon
To all you brave, courageous choir leaders [and worship leaders and singers], you are out there navigating what is currently a difficult and for some a discouraging 'when will it end?' season.
Latest regulations say that we can gather for worship in churches or at West End musicals, but we are not allowed to sing. [Although, Andrew Lloyd Webber has announced that the London Palladium is to be used for Covid-19 safety trials of live concerts.  I think Beverley Knight was the most recent].
It's a break from what has been normal.
Some of you welcome the break because you are exhausted or have run out of ideas, for others, you most definitely miss your choir and singing worship together in team or community and you are simply trying to work out how to deliver something you are passionate about under very different and counter-intuitive conditions.
This blog guide is dedicated to all of you.
One choir leader said to me recently, 'I can't believe how singing has become such a dangerous weapon'.
So true.
But I think singing has always been a dangerous weapon!
A weapon that is able to move emotions, shape cultures and ideas, breathe out the breath of the Creator Spirit, bring people together, voice the unspeakable, silence the demonic ravings of a king [Saul], firework the sky with shards of angelic praise, internationally voice the compassionate blessing of God, fuel revolutions, boldly dare to capture the mystery, humanity and transcendent beauty of Jesus and can still lull a baby to sleep.
Singing together or alone is still a powerful gift.
I hope this truth encourages you as you share that reality with your choir or your music team.
Cheering you on…
Geraldine L